Bromley has a history going back over a thousand years (the manor of Bromleage was given to the bishops of Rochester in 900s AD) and we are fortunate that quite a few of the market town, Civic Pride era buildings, still survive:
Heritage Buildings of Bromley
Move the mouse over the map to select a heritage building (in colour). Then you can click through to the info and old pictures of it.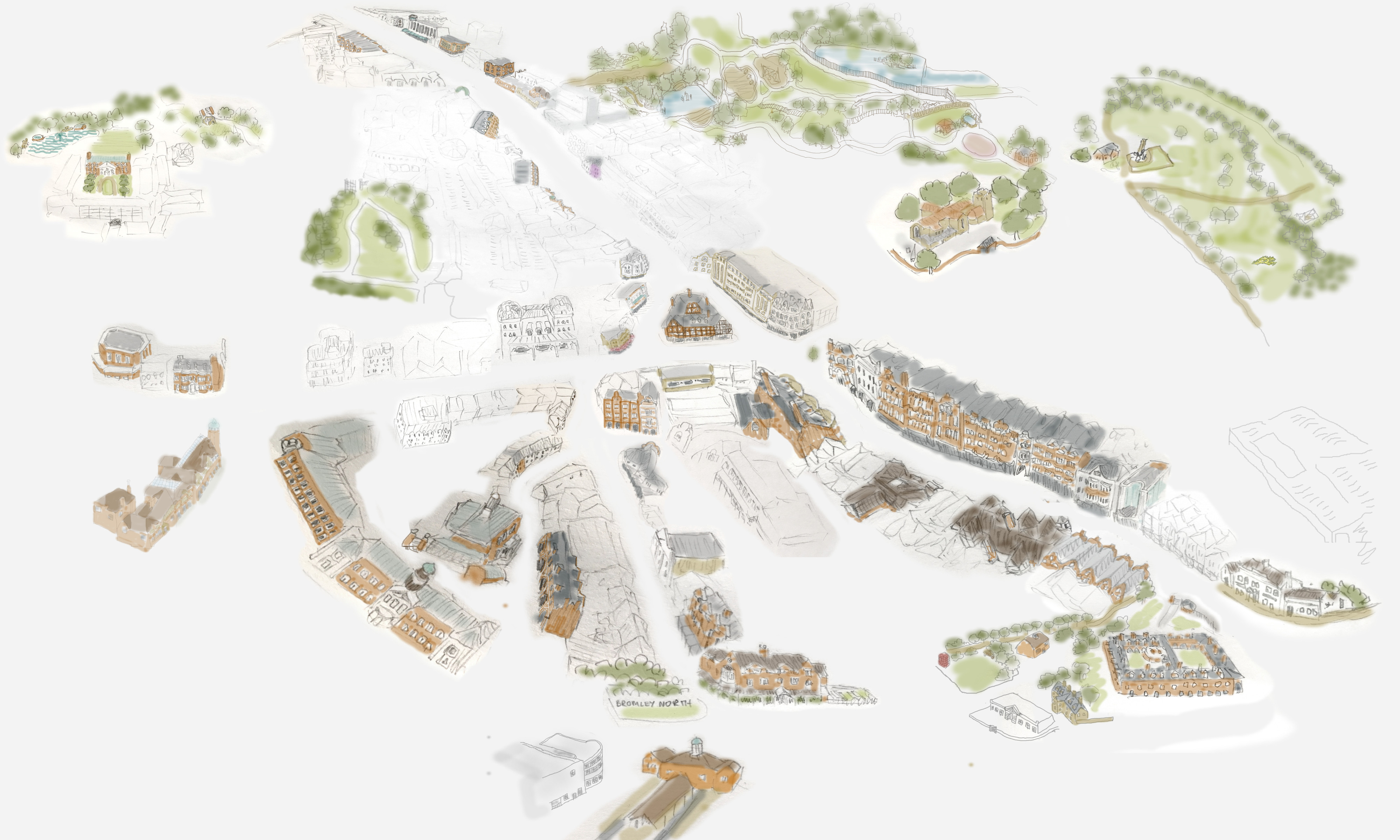 Royal Bell
Bishops Palace, Moat, Icehouse & St Blaises Well
Bishops Palace: Bromley, or Broomleag, was a manor belonging to the bishops of Rochester since the 900sAD, most of the old Palace is a Victorian facade on a 18th Century building
The Moat, The Icehouse, and St Blaise's Well
School of Art & Science
Old Town Hall of 1907 and 1937 extension
These beautiful Edwardian buildings date from the Era of Civic Pride.  The Old Town Hall (1907) and Town Hall Extension (1937) were built when the town grew too big to be run by the Vestry
Stanley Hawkins Fire Station
The borough engineer designed this building in a striking twist on the Neo Georgian architecture favoured at the time, in 1905, see more at our post.
Former Magistrates Court
Swan and Mitre public house
The Swan and Mitre is an old coaching inn, at the northern end of the high street.  Though the building dates back to the 17th or 18th Century, most of the current frontage is Victorian.  See more at our post...
First Church of Christ Scientist
A Striking octagonal building built in 1928 by E Braxton Sinclair. See our post...
Bromley North Station
Charming Neo-Classical building, rebuilt from the original wooden station by Southern Rail in 1925.  See more at our post here.
Bromley and Sheppard C17 Colleges
17th Century colleges built to house the widows and spinsters of Clergy, and still house retired vicars and their families today, see our post about it here...
Railway Tavern
A delightful Arts & Crafts building from 1879, by Berney & Sons.  Incorporates glazed tiles, porch, and lots of shell motifs from the heraldic device of the Bishops of Rochester (former Lords of the Manor).
Primark formally Medhursts
The former Medhursts building, the emporium of Fred Medhurst that attracted well heeled clientele for miles about, see our post here...
The Star And Garter Public House
An Art and Crafts fantasy building from in 1898 and was designed by Berney and Sons for Nalder and Collyer, a local Croydon brewer, it's complete with balcony and turret.  See our post here...
Former Dunns Building
locally listed, 1960s pleasantly proportioned building after 1920s black-and-white buildings was bombed in WW2, see our post...
Market Square buildings
There has been a market in Bromley since 1205. These attractive 1932 Arts and Crafts buildings replace two previous buildings as part of a remodelling of Market Square, see our post...
Picture House Cinema
The recently refurbished Picturehouse Cinema, see our post here...
The Partridge, 194 High Street
The Partridge, a fine and very decorative neo-classical building, that was built as a bank. See about it at this page...
198 High Street, formally Pamphilons Wine Emporium
Lovely white washed building with good proportions and simple lines.  Original name is inscribed in the arches and it's decorated with carved grapes.  See more here...
There's also a collection of pictures of our heritage buildings in Bromley town centre: