Victoria Chambers is a fine building from the 1890s in the Arts & Crafts style with its characteristic Dutch influence.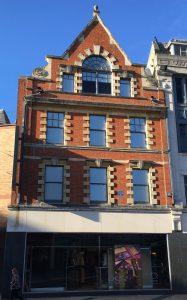 On this building is the blue plaque, marking where Herbert George Wells was born on 21 September 1866. He spent much of his early childhood in the town until he was apprenticed to a draper and left the area. Please see more about HG Wells on our page here.
In fact, this was not the site of the shop that HG Wells lived in; that's by Primark's main entrance (the blue plaque did not suit Primark's makeover). The building that HG Wells grew up in, was one of a row of shops, that were 'hurriedly thrown up', when a former footpath behind the High Street became a new roadway, called the 'New Cut' in 1832. It removed a sharp bend in the High Street.
No. 47 (old numbering!) became the china, glass and pottery emporium of Joseph Wells. His descriptions of living above and below the shop (it's built on a steep slope) make it sound quite dingy – he describes the kitchen, under the shop floor, as being lit by a light in the pavement whilst facing out onto the yard at the other side.
Joseph Well's shop became part of Medhursts in 1880's, after Fred Medhurst bought several adjacent properties along the New Cut, starting with numbers 49 and 51. In 1930 all these buildings were demolished and the current Art Deco building constructed. The Primark store still has the name Medhurst on the building which stands today.
Another note: before the Wells bought the shop, it was a shoe / leather work shop belonging to Thomas Churcher. Though a real-life man, he has been cast as a main character in Elizabeth Haynes's book, set in Victorian Bromley, called The Murder of Harriet Monckton.