Ernest Newton was a renown Arts and Crafts movement architect, and in Bromley , he has built one of his best works, The Royal Bell on the High Street
This lovely red brick building has Queen Anne style plaster initials and designs, and gracious bay windows.  Originally it also had a stain glass porch on the front.
There is more on the Royal Bell's website.
The Chislehurst Society (as his portfolio has a number of fine examples there) says on this page: "Ernest Newton (right) was born in Bickley in 1856, the son of an estate manager. He was educated at Uppingham School, Rutland. He married Antoinette Hoyack in 1881, and they had three sons. He was resident again at Bickley in 1883 where he built his own house at Bird in Hand Lane, Bickley in 1884. Over the next 20 years he designed a large number of houses in the Bickley and Chislehurst area, many of which still exist".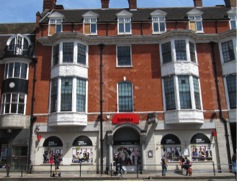 Ernest Newton was a protege of Norman Shaw, who had exemplified the best late Nineteenth Century architectural practises developing the suburbs of Bedford Park.  Norman Shaw is thought to have introduced him to the Lord of Manor of Lee, Earl Northbrook (of the Baring banking family). The manor of Lee, especially Grove Park, was the subject of "progressive" development in the Victorian era, a chance to create a "artistic suburb" in the same manner as Bedford Park.   This included the villa of "Three Gables" (that was occupied by the children's author E Nesbit:
"The house was in the best fashion of "Queen Anne" free styling, beneath the hipped roof, tall brick chimneys and titular gables (two half timbered, the central one pargeted), the fenestration was irregular and deep bay windows were thrown out from the principal rooms into the generous gardens. It was a suitably free and liberating backdrop for Nesbit and her circle, that included HG Wells and George Bernard Shaw. Whether just following architectural fashion or a real attempt to style a South London rival to Bedford Park, the efforts of Lord Northbrook did attract its share of liberals and free-thinkers." from http://www.theroyalbell.co.uk/
There's more about his buildings at the page on the Chislehurst Society about him.
Again, from the Chislehurst Societies page, we can find these local buildings by Ernest Newton (there were many more that are less local to the town):
1888 Mission Church, Widmore, Bromley
1891 St Luke's Institute, Raglan Road, Bromley Common
1891 238 Southlands Road, Bickley
1898 Martins Bank, 181 – 183 High Street, Bromley
1898 Shop, 179 High Street, Bromley
1898 The Royal Bell Hotel, High Street Bromley
1902 Nos 21 and 23 Page Heath Lane, Bickley
1904 Spire, St Georges Church, Bickley Park Road, Bickley
1920 Alterations to Bromley Palace, Widmore Road, Bromley