David Bowie (the famous musician!) was born in Southwark. His parents then moved to Bromley South (106 Canon Road, and briefly attending Raglan Road School), before settling at 4 Plaistow Grove, where he spent his school years, attending Ravenswood School For Boys. In 1969 he moved out of Bromley, to Foxgrove Road, Beckenham.
Like other sons of Bromley he does not seem to have had any affection for the town of his birth; however, like all true natives (and converts), when something disgusted him, it is reputed he would say "That's so [insert your epithet here] Croydon"
At his Plaistow Grove family home, 1958/9.


At the bandstand in Croydon Road Rec, Beckenham.
Here's a picture of him with his early band, the Konrads, on the balustrade in our Church House Gardens, thanks to Bromley Bowie (who are recommended for more information, as is the page from South London Guide).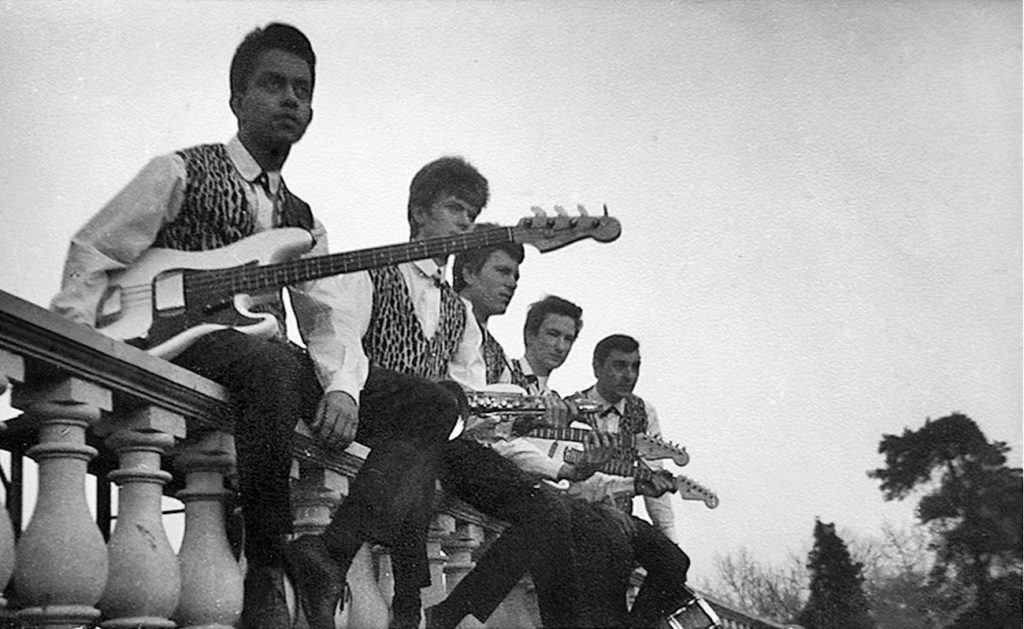 An account from Bromley Bowie post on the 29th January, 2018:
*A LAD IN PRIMARK*
Until recent years, Primark in Bromley high street was an Allders department store, and before then it was home to Medhursts, a large independent department store, founded in 1879.
A young David Bowie was a frequent visitor to Medhursts, calling in on the way home from school, enjoying the latest releases in a listening booth of the record department, before buying some of them at a discounted price from a sales attendant he befriended.
Here's David Bowie himself recalling those days and some of the records he bought from Medhursts in an interview he gave for Nokia in 2006, when he listed some of his favourite albums:
* * * * * * * * * * * * * * * * * * * * * * * * * * * * * * * * * * * * * * * * * * * *
Charlie Mingus – Oh Yeah – 1961 Atlantic
"Medhurst was the biggest departmental store in Bromley, my British hometown in the early sixties. In terms of style, they were to be pulverized by their competitors down the road who stocked up early on the new 'G-Plan' Scandinavian style furniture. But they did have, unaccountably, a fantastic record department.
"Run by a wonderful 'married' couple, Jimmy and Charles, there wasn't an American release they didn't have or couldn't get. Quite as hip as any London supplier, I would have had a very dry musical run if it were not for this place. Jane Green, their counter assistant, took a liking to me and whenever I would pop in, which was most afternoons after school, she would let me play records in the 'sound booth' to my heart's content till they closed at 5.30 p.m.
"Jane would often join me and we would smooch big-time to the sounds of Ray Charles or Eddie Cochran. This was very exciting as I was around thirteen or fourteen and she would be a womanly seventeen at that time. My first older woman. Charles let me buy at a huge discount enabling me to build up a fab collection over the two or three years that I frequented this store. Happy days.
"Jimmy, the younger partner, recommended this Mingus album one-day around 1961. I lost my original Medhurst copy but have continued to re-buy it throughout the years as it was re-released time and time again. It has on it the rather giveaway track 'Wham Bam Thank You Ma'am'. It was also my introduction to Roland Kirk.
The Fabulous Little Richard – Little Richard – 1959 Specialty
"Unusually subdued, these performances were recorded by Richard at his first Specialty sessions in 1955. It was sold to me discounted by Jane Greene.
James Brown – Live At the Apollo – KING 1963
"My schoolmate Geoff MacCormack brought this around to my house one afternoon, breathless and overexcited. 'You have never, in your life, heard anything like this" he said. I made a trip to see Jane Greene that very afternoon. Two of the songs on this album 'Try Me' and 'Lost Someone', became loose inspirations for Ziggy's 'Rock and Roll Suicide'. Brown's Apollo performance still stands for me as one of the most exciting live albums ever. Soul music now had an undisputed king.
* * * * * * * * * * * * * * * * * * * * * * * * * * * * * * * * * * * * * * * * * * * *
So, where Bromley Primark now stands was once Medhursts, a department store where a young David Bowie bought his vinyl. Also, 13 years before becoming Medhursts it was the birth place of HG Wells. There's a plaque to commemorate this on the front of the building.