The former Town Hall in Tweedy Road was built in 1906 by R Frank Atkinson in a neo-Wren style. The hipped slate roof has a central cupola constructed in timber, set above a fine entrance porch.
Officially opened by Mayor Alderman R W Jones JP on 25 September 1907, the building cost £35,000 including furnishings.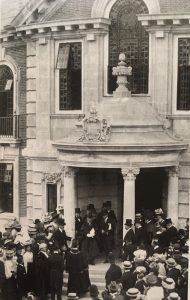 At the rear of the building is the barrel vaulted first Magistrates Court, with two cells underneath (this was replaced by the 1937 C. Cowes Voysey Magistrates Court on south street). 
This building has been sold by the council (freehold), and CastleForge have submitted proposals to make it into rentable office space:
Archive: Proposals for Old Town Hall, from the new owners