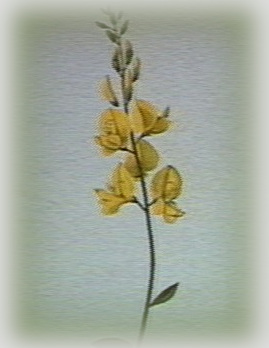 To provide a bit of light hearted entertainment, we have compiled an online website 'Easter' hunt.
The competition is to look on our website, and find all the pages which have a picture, like the one above, of a sprig of Broom (the spring flower that Bromley is named after) at the bottom of the page.
When you've found the picture at the bottom of one of our pages, it will have a letter next to it. Write down the letters, they are an anagram for a word. When you've found them all, shuffle the letters to find the word!
The competition is really just for fun and kudos, but Survey Monkey will email us your answers, and the correct answers will be entered into a prize draw – though this will only be for Cadbury's Easter Eggs! The competition is to show you our website, so explore and find those pages with the broom pictures!
For instance, with the Clue: "The vanished and haunted moated manor that gave Ringers Road its name" you could put 'Haunted' in the search box (top right) and see an entry for Simpsons Moat in the list, when you visit this page and scroll to the bottom, there's a picture of a sprig of broom. Under this is an 'M', so enter 'M' in the box for this question! There's one done for you already!
Use each of these clues to help you find a page with the picture of a sprig of broom at the bottom:

2) An innovator of self-service shopping.
3) Bromley's toy town station.
4) Our clickable map of the town's heritage… look under 'Heritage'.
5) The future of the seat of our local government in the 2019 Local Plan.
6) Famous former resident reputed to have used the term 'So ******* Croydon' when disgusted with something.
7) A quarter of this parkland was sold off in November – including the listed folly.

And a final question (search for our page on Broom time): Which of our green spaces was the Broom Time festival held in?
Here's a link to SurveyMonkey to enter your answers. Alternatively you can print this word document, and fill in the boxes – in this case, if you want to enter the prize draw, you will need to email it to us at bromley.civic.society@gmail.com