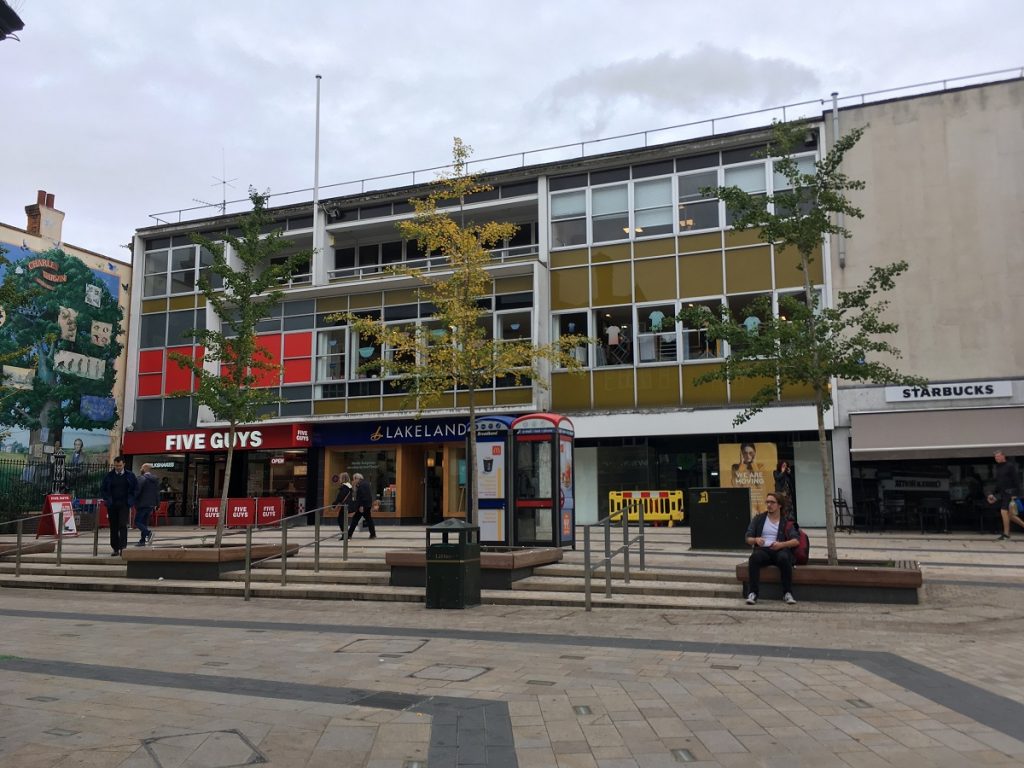 Locally listed 1960s style with pleasant proportions, and a framed rectangle section at the front, and coloured panels.  It is the work of architect Bertrum Carter, and was the second rebuild for Dunn furniture store and funeral services, who had traded in Market Square since 1710. 
The previous building, a rebuild after the 1909 Market Square fire, was a fine 1920s Arts and Crafts black-and-white framed building incorporating a series of yards and sheds at the back, which housed not just the furniture that Dunns sold, but the workshop for their funeral business. There is much fascinating detail of the building and the family business at their site here…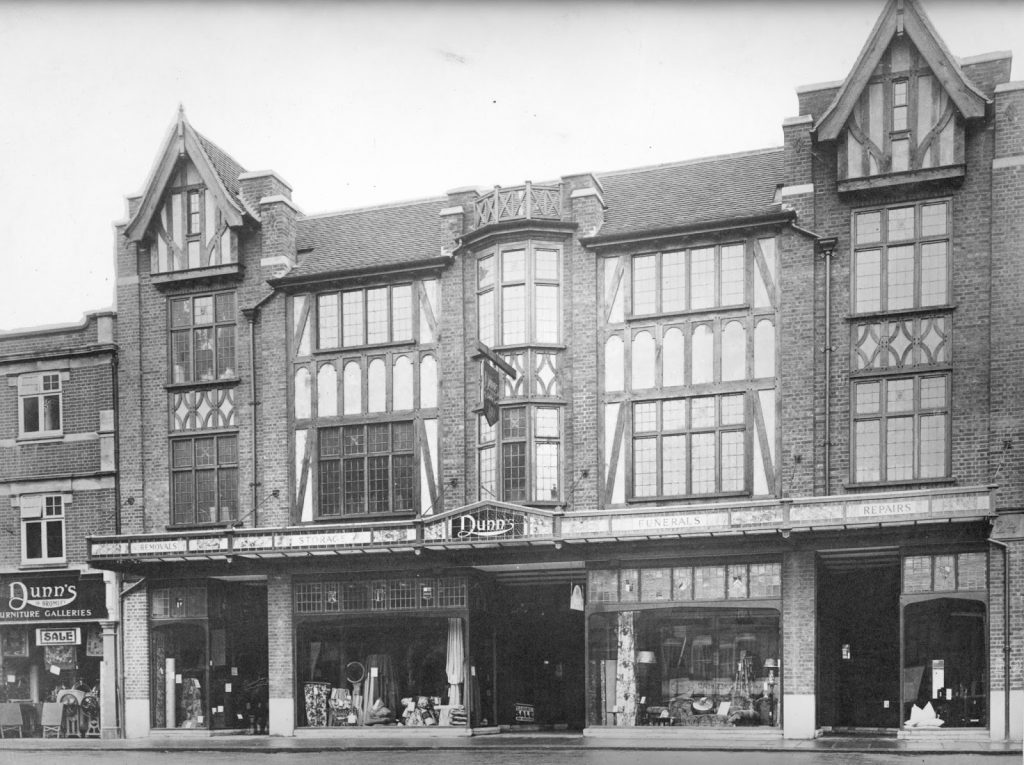 This black-and-white building was bombed and burnt down in the 16th April 1941 raid that also destroyed Bromley Place and the town centre churches.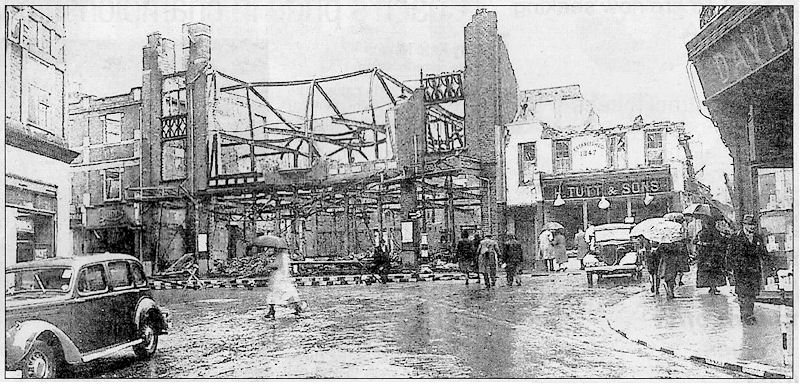 The business became best known for its furniture design and had a large shop in the Market Square which was destroyed by bombing in 1941 (see Royal Observer Corps Association page). There's an account of housewives salvaging the soap from the former Brickpit (now Havelock Rec) here…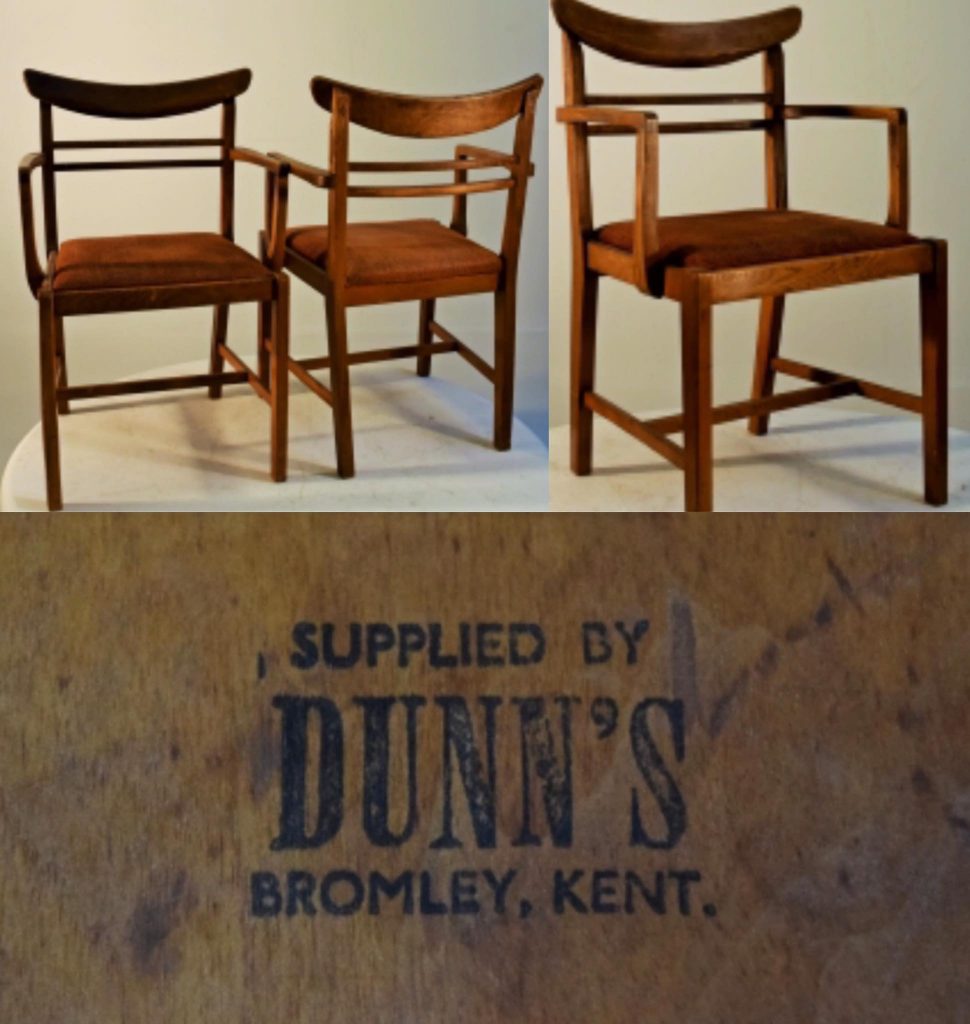 Following the bombing Geoffrey Dunn traded on the bomb site using a temporary building for furniture sales, then rebuilt the shop and continued trading for another 40 years before eventually closing in 1980.
Extract from the obituary of Geoffrey Dunn – Daily Telegraph 8 January 1998 at the age of 88… at KentCrawlersKlub website
"Geoffrey Dunn was a handsome man with a striking profile who was always impeccably dressed. He was a brilliant raconteur.
The campaign for good design, which Dunn supported, came into its own during the Festival of Britain in 1951. He served on the Council of Industrial Design (which became the Design Council) and the Duke of Edinburgh's Design Award. He was also a life fellow and gold medallist of the Royal Society of Arts…
Geoffrey Edward Dunn was born at Bromley, Kent, on July 20 1909 and educated at Woodbridge, Suffolk. His father, Edward… kept a tight rein on the business and did not easily indulge "Mr Geoffrey's" taste for modern furniture. During the war, the Dunn's building was set on fire by an incendiary bomb. Geoffrey Dunn is supposed to have shouted: "Let it burn!"
The destruction of the building gave him the opportunity he needed to change the character of the shop and accommodate a new attitude to design…  After wartime service on minesweepers, Dunn rebuilt the business in new premises designed by his friend, the modernist architect Bertram Carter [there's a stub article on wiki here]. The [1954-57] building was praised by Nikolaus Pevsner, the architectural critic, for its intricate and fascinating interior…
With no family to carry on the business, Dunn asked Heals to take over upon his retirement in 1976, hoping the standards he had set would be preserved. Heals eventually had to sell off the Bromley shop, even though it was still trading successfully. During the 1980s, Bertram Carter's building was occupied by a branch of Brentford Nylons."