The site is part of the Bishop of Rochester's Palace Park which is the setting of 6 listed buildings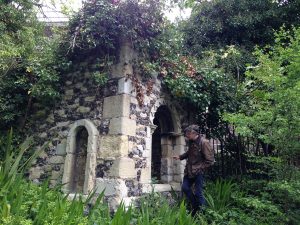 Please write and object to this sale to :David Mark Bowen, Director of Corporate Services, LB Bromley, Stockwell Close, Bromley, BR1 3UH or email it to : mark.bowen@bromley.gov.uk Mark it Proposed sale of land at Bromley Civic Centre and include your name address and postcode otherwise it will not be accepted. Don't be put off by this mad deadline !: Copies to the Ward Councillors and BCS would be welcome.
CllrNicky.Dykes@bromley.gov.uk William.Harmer@bromley.gov.uk Michael.Rutherford@bromley.gov.uk
chair@bromleycivicsociety.org.uk
The Park has been seriously damaged in the past: firstly by the later Stockwell College buildings and then by Bromley Council developing the entire western lands to construct Kentish Way, the Civic Centre Multi Storey Car Park and new Civic Offices.

Because of this degree of redevelopment the Council, in 1987, designated the rest of the Park including that now offered for sale as 'permanent open space' with the proviso that there should be no more development.

Heritage and, in particular, open space heritage is a vulnerable and finite resource. Once lost it is lost forever unless in the gift of an owner responsible enough to value it's historic and environmental value to the community and future generations. That is what we expect of our elected Council, this case, as owner and guardian of our open space heritage in accordance with adopted policy. To grab this historic land for development is just inexcusable and it should be returned to Parkland.