The Royal Bell is a beautiful Queen Anne style Arts and Crafts style building just north of market square. The architect was the renowned Ernest Newton and it is Grade II listed.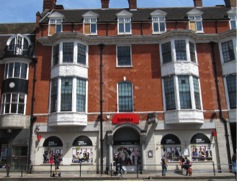 This range of buildings was rebuilt in 1898 on the site of an earlier hostelry of 1666; as part of the front required propping up by the 1890s. It was this older building that was made famous in Jane Austen's 'Pride and Prejudice' when Lady Catherine de Burgh says to Elizabeth Bennet "Where shall you change horses? – Oh! Bromley, of course. – If you mention my name at the Bell, you will be attended to." Jane Austen frequently travelled to Kent to visit her brother and would certainly have changed horses at the Bell.
Planning permission has been granted to restore this iconic building, as a niche market hotel, commissioned by Gary Hillman who has a personal project to restore it, as he has childhood memories of family functions there. The website describing the history and restoration is at: http://www.theroyalbell.co.uk/.
The developers presented their plans at the Royal Bell in August 2018, and these photos date from this occasion:
This blog entry dates from 2015 when the building had been empty for 5 years: A Look Inside the Royal Bell
x