Posted on March 3, 2019 by campaignr A modest 1923 parade of shops, with nicely proportioned windows above, in Art Deco style. They occupy the whole front of what used to be the large garden of Ravensfell House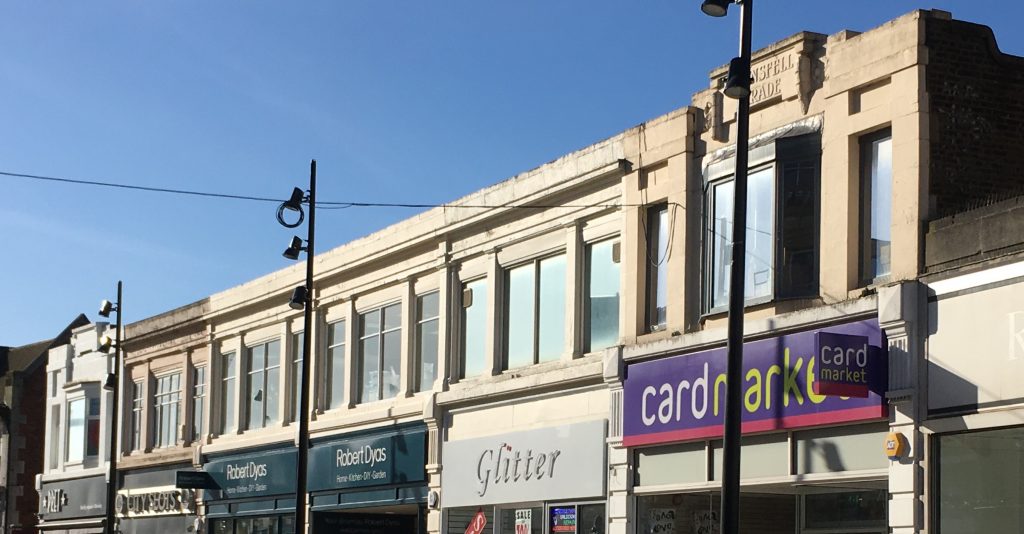 Ravensfell House was built for an Australian merchant* ,John Richardson, and was the first, of a number, of fine villas overlooking the Ravensbourne Valley built in 1858 at the coming of the railway. There is a note that John Richardson corresponded with George Sparkes (who retired from being a judge for the East India Company) next door at Neelgherries, about ancient lights and greenhouses.
Prior to the arrival of the railway in 1858, Bromley High Street stretched only a short distance south from the Market Square. Redwood House on the east side (now the site of Marks & Spencer and Neelgherries on the west side (where the library is now) were the limit of continuous development. Bromley House and Bromley Lodge further down the hill had fields between them and the High Street itself. After 1858, the area between here and the station began to be filled, mainly with detached Victorian houses.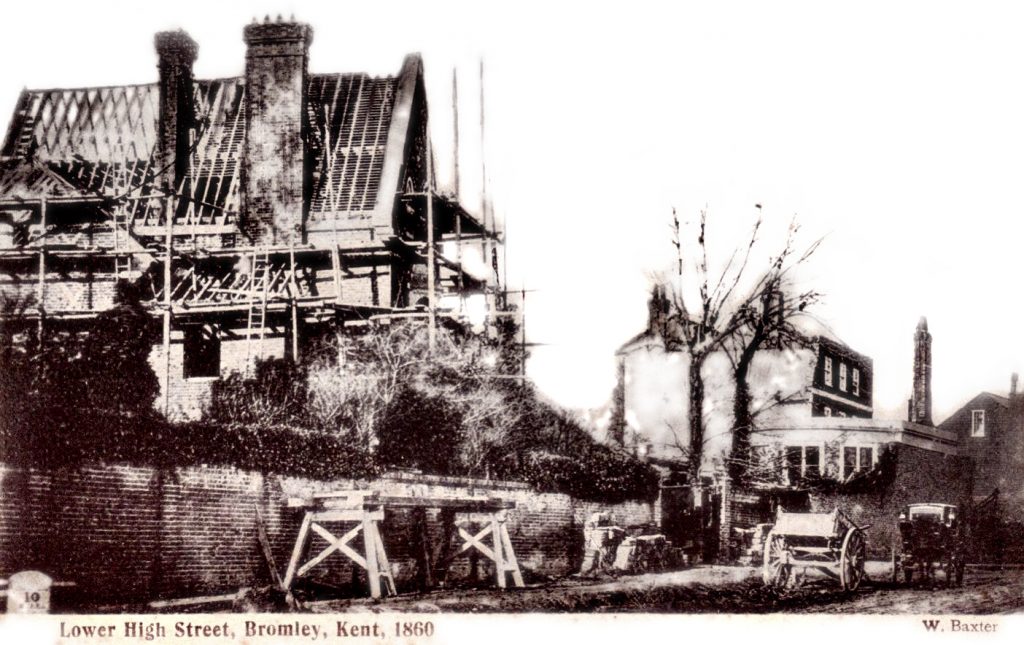 The construction of Ravensfell House in 1858
When Ravensfell House was built, and for a while afterwards, it was the most westerly building on the high street. It is recorded that the road next to it, Ravensbourne and Ethelbert Roads, were laid out in 1870-1872. This (now demolished) mansion had been built in the late 1850s and only survived for just over half a century. When the property was demolished there are deeds for it, describing the property of the Richardson Family to include Ravensfell House, Mill Pond Meadow, and Kingswood Avenue and 'Lascelles', in 1922.
"In summers around 1920, public entertainments were given in a garden marquee" (Murial Mundie nee Searle).
The first record, in the local business listings for Ravensfell Parade, is in the 1924 Kellys Directory, where it informs us that Number 6 Ravensfell Parade was the establishment of Rae Bertina, who was a 'Costumier'.
By 1928, Russell and Bromley are at number 7 and have placed an advert in Kellys, , as has Staples at number 2:
No. 2: Staples, makers of picture frames, gilders, pictures cleaned & restored artists' & crafts materials, with an advert and listed in 3 places.
No. 3: Harris W. J. & Co. Ltd., baby carriage manufacturers
No. 4: Willmett Kate (Mrs.), milliner
No. 5: Lawley's (1921) Ltd. china & glass merchants
No. 6: Rae Bertinal costumier
No. 7: Russell and Bromley, fine shoes and foot fitters
No. 8: Smith W. H. & Sun, booksellers
No. 9: Hammetts, butchers