Start your day at this year's fabulous SCIFI event with a time travel back to the Bromley where the grandfather of SCIFI was born and spent his early years which so influenced his later life and work.
Along with SciFi Bromley, Bromley Civic Society will be leading a HG Wells heritage walk on Saturday 23 September.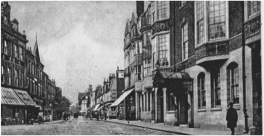 Meet at 2.00pm outside Primark, Bromley Market Square.
The walk will be free of charge. Please see our leaflet here.