Heritage Walk
Bromley North
Saturday 31st October 2015
Meet at 10:30am outside the Railway Tavern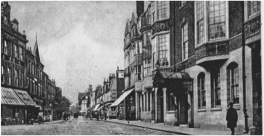 (opp Bromley North Station)
FREE
The walk will last about 2 hours
A walk around the old town of Bromley to get a flavour of its Victorian heyday, when many buildings in the Arts and Crafts style were built and the young Herbert George Wells was running around getting into scrapes and experiencing life that would later shape his novels. We will visit the 17th Century Bromley College, a quiet oasis with a rich history, where there is wonderful Wren style architecture and 200 year old graffiti.
We hope there will be a regular series of walks in Bromley Town Centre but we need more walk leaders! If you have an interest in history and your local environment (you don't have to an expert!) and you would like to get involved in leading these walks in the future then come and join us at 10:30 on the 31st October or contact us through the website: www.bromleycivicsociety.org.uk.
If you are thinking of coming on the walk it would be helpful if you could email chair@bromleycivicsociety.org.uk so we have some idea of numbers.