The annual flowering of the shrub, from which Bromley takes its name, takes place on Martin's Hill mid April to the end of May and we recommend all visitors and locals to witness this event of living history so fundamental to the heritage of Bromley Town.

Tony Banfield, Chair of Bromley Civic Society Heritage officer – The Friends of Bromley Town Parks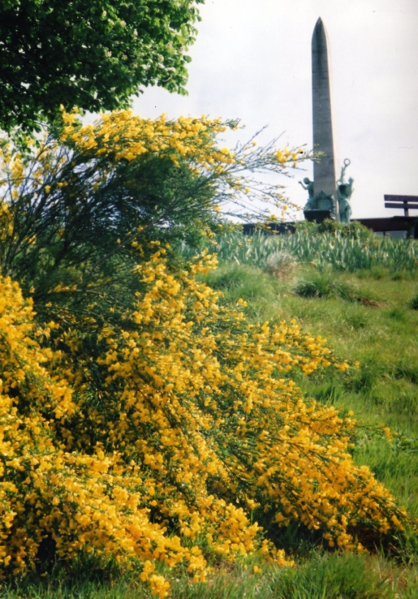 Just two minutes walk from Market Square along Church Road behind Primark, Bromley's name- sake shrub burst into spectacular bloom on Martin's Hill. The name 'Bromley' is from the Anglo Saxon 'Bromleag' or 'Broomleigh' literally meaning Broom meadow.
It is recorded that by 1832 most of the broom had disappeared through development and cultivation and Martin's Hill was the last place in the Town where it could still be seen. Seen and celebrated it certainly was. Local historian Muriel Searle tells us that Victorian railway gazetteers drew passengers' attention to the blaze of yellow on the hillside as they passed through the Shortlands Valley and the Town came out in force on Queens Mead below the Hill to celebrate the now long forgotten festival of Broom Day.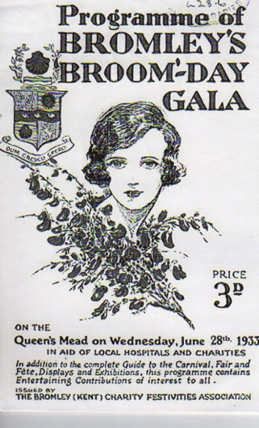 The newspaper report of 1933 says " once again thousands of people will be wearing sprigs of Broom and by purchasing this delightful little emblem of the town of which they are so proud they will be helping the local hospitals and a dozen other good causes. As in previous years the classic Queens Mead (below martin's Hill) will be the gay scene of a host of attractions".
Sadly, along with Bromley's sense of Civic Pride, the broom and its significance in post War years disappeared but the shrub began to make a comeback on Martin's Hill in the 1980s. Despite being overrun with bramble due to the absence of any Council policy for its conservation it is fighting back in several large colonies in this, its native habitat.